Our Products
Third Party Medicine Manufacturer
In India, we are a third-party pharmaceutical manufacturer. Farlex Pharmaceuticals is a contract pharmaceutical manufacturer in India with 3rd Party Manufacturing facilities. Find the top Medicine and Pharma Manufacturers, as well as Medicine Manufacturing and Third Party Manufacturing Pharma companies, right here.

Third Party Manufacturing Pharma Companies
1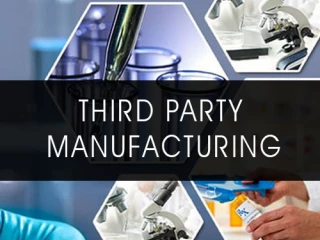 Being a Certified Third Party Pharmaceutical Manufacturer in India. Our organization is one of India's leading third-party manufacturing companies. We have the potential to supply all types of medicine ranges such as powders, tablets, capsules, Herbal Nutraceuticals, protein powder, Gym supplements, Capsules, Tablets, and pharma sachets as one of the most reputable third party pharma manufacturers. We use the highest quality raw materials and cutting-edge tools as a leading 3rd Party Manufacturing Pharma Company.
Top Third party manufacturers for glimepiride and metformin hydrochlor...
1
If you are looking for third party manufacturers for glimepiride and metformin hydrochloride tablets in india. Farlex Pharmaceuticals is the best third party pharma manufacturing company in Chandigarh. Our head office located at panchkula.
SR. NO.
COMPOSITION
1
Each hard gelatin capsule contains:Levosulpiride SR 75 mg (as sustain release pellets) Rabeprazole Sodium IP 20 mg (As enteric Coated pellets
2
Omeprazole IP 20 mg
3
Each hard geltin capsule contains:Omeprazole IP 20 mg (as enteric Coated pellets) Domperidone IP 10 mg (As sustain release pellets)
4
Each hard gelatin capsule contains:Domperidone IP 30 mg (10 mg immediate release and 20 mg sustain release pellets) Rabeprazole Sodium IP 20 mg (As enteric Coated pellets)
5
Each hard gelatin capsule contains:Domperidone IP 30 mg (10 mg immediate release and 20 mg sustain release pellets) Pantoprazole IP 40 mg (As enteric Coated pellets)
6
Each hard gelatin capsule contains:Pantoprazole 40mg Cinitapride (ER) 3mg
7
Each hard gelatin capsule contains:Ginseng Powder 200 mg Vitamin A (as Acetate) IP 2500 Lu Cholecalciferol IP 200 lU Thiamine Mononitrate IP 2mg Riboflavine IP 2 mg Niacinamide IP 25 mg
8
Each hard gelatin capsule contains:Streptococcus faecalis 30 million Clostridium butyricum 2 million Bacillus sentericus 1 million Lactic acid bacillus (lactobacillus sporogenes) 50 million
9
Hard gelatin contains:Lycopene 10% 2mg Vitamin A 2500 I.U. Vitamin C 50mg Alpha Tocopherol cetate 10 I.U. Zinc Sulphate Monohydrate 27.45 mg


10
Hard gelatin capsule contains:Carbony Iron 100mg Folic Acid 1.5mg Vitamin B12 15mcg Vitamin C 75mg Zinc Sulphate Monohydrate 61.8 mg
11
Hard gelatin capsule contains:Vit A 5000 I.U Vit. E 25 I.U. Vit C 150mg Zinc Sulphate Monohydrateeq to Zinc10mg
Selenium Dioxide 100mcg

12
Each hard gelatin capsule contains:Aceclofenac IP 200 mg Rabeprazole Sodium IP 20 mg (As enteric Coated pellets)

13
Each hard gelatin capsule contains: Itraconazole Pellets Eq. to Itraconazole 100 mg
14
Each hard geltin capsule contains:Doxycycline Hydrochloride IP Eq. to Doxycycline (Pellets) 100 mg Lactic acid Bacillus 5 billions spores (Enteric Coated Pellets)

15
Each hard gelatin capsule contains:Lycopene 5000mcg Selenium Dioxide 75mcg Vitamin A 2500 I.U (Concentrate Po wder) I.P. Vitamin EAcetate I.P. 10 I.U Vitamin C (Coated) I.P. 50mg Zinc Sulphate 27.45mg Monohydrate U.S.P.
16
Doxycycline Hydrochloride IP Eq. to Doxycycline 100mg Lactic acid Bacillus 5 billions spores
17
Each hard gelatin capsule contains:Dutasteride IP 0.5 mg

18
Each hard gelatin capsule contains:Alfacalcidol IP 0.25 mg Calcium Carbonate IP 625 mg Eq. to Elemental Calcium 250 mg

19
Each hard gelatin capsule contains:Acebrophylline 200mg (As sustained release )
20
L-Carnitine USP 500 mg Coenzyme Q 10 USP 100mg Vitamin k2-7 50 mcg Magnessium Sulphate IP 50mg Zinc Sulphate Monohydrate USP eq. to elemental zinc 7.5mg
21
Each hard gelatin capsule contains:L-Carnitine USP 500 mg Coenzyme Q 10 USP 100mg Vitamin k2-7 50 mcg Astaxanthin USP 8 mg Magnessium Sulphate IP 50mg Zinc Sulphate Monohydrate USP eq. to elemental zinc 7.5mg
22
Each hard gelatin capsule contains: Coenzyme Q 10 100mg Alpha Lipoic Acid IP 100 mg
23
Each hard gelatin capsule contains:Tamsulosin HCL IP 0.4mg (as film coated modified release tablet ) Deflazacort 30 mg
24
Each hard gelatin capsule contains:Mecobalamin 1500 mcg Alpha lipoic acid 200 mg Folic acid IP 1.5 mg Inositol 100 mg Chromium
25
Each hard gelatin capsule contains:Esomeprazole Magnesium Trihydrate IP Eq. to Esomeprazole 40 mg Domperidone 30 mg (SR)
26
Each hard gelatin capsule contains:Orlistat USP 120 mg
27
Each hard gelatin capsule contains:Silodosin capsules 4 mg
28
Each hard gelatin capsule contains:Silodosin Capsules 8 mg
29
Each hard gelatin capsule contains:Indomethacin IP 75 mg (SR)
30
Ferrous Fumarate IP 300 mg Folic Acid IP 1.5 mg Vitamin B12 (geletin coated) 15 mcg