Our Products
PCD Pharma Franchise in Andhra Pradesh
are you looking for PCD Pharma Franchise in Andhra Pradesh if yes, then Bioshine Healthcare is the best option for you.

PCD Pharma franchise Companies in Andhra Pradesh
1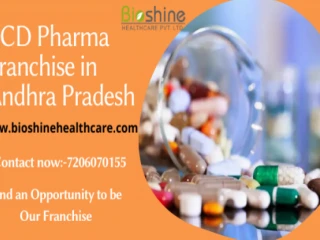 Bioshine Healthcare Pvt ltd who has been helping pharma industry people just to provide best pharma product with a high-quality distribution center. so what are you waiting for to get full information about the benefit of the pharma PCD franchise in the general product and derma industry? We are a PCD pharma franchise monopoly basis and we aim to provide high-quality medicines to everyone at reasonable prices. Bioshine Healthcare is a top pharma franchise company specialized in manufacturing and supplying a wide range of tablets, syrups, eye/ear drops, nasal spray, injectable, mouth wash, and pediatric range products.